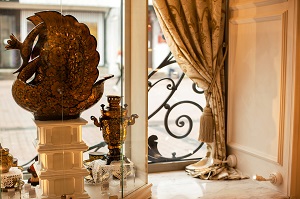 The President of Russia Vladimir Putin the decree declared 2017 as the year of Ecology. The main idea is to attract the attention of the Russians to nature and ecology, to learn to appreciate and cherish all the beauty that gives us the world around us.

That surrounds the modern man in the urban environment? A huge number of artificial objects, from household items created from polymer materials, glassware, painted artificial colors, to clothes made of synthetic fibers. They are marked by certain toxic chemical substances that have an aggressive effect on human health. If we reflect, acquiring once again the seemingly cheap product by an unknown manufacturer that are paying for it with our health?
How to get back to basics, to start to live in harmony with the environment? The answer is simple - you need to create an Eco lifestyle. For myself, and as a result – and for others. This topic is very relevant for us, because the industry of arts and crafts permeated with the idea of naturalness and sustainability, exclusivity and uniqueness.

Handicraft products in the eco style allows you to create the interior as close to natural characteristics.

Natural tree bark, rock, clay, textiles, favorable to human health, and create a healthy microclimate, the atmosphere of coziness and harmony. And these things are not at all boring and impersonal. Use interior paint on a natural basis makes a variety of color and emotion, making each piece a personality and is absolutely safe for human health.

Thinking about the interior, it is impossible not to think about yourself. Bedding, table linen and clothing in Eco style is one of the main parts of a healthy lifestyle, careful use of nature. Clothing Handicraft presents only natural materials: silk, wool, cotton and linen fabrics. Why the clothes of this style looks very simple and natural. It is worth noting that these things are very comfortable and nice to wear. Such clothing does not cause the slightest harm to the nature. All the raw materials for linen and clothes is harvested without additives, harming nature and is manual handling, so these products are named Handicraft.

Thus, the concept of Handicraft in the eco style underscores the people's desire to save all the beautiful things that gives us the world around us. Handicraft in Eco style is a tradition and identity, the relevance and modernity, is a concept aimed against the depletion of natural resources and support ecological cleanliness and safety.

Welcome!