In June 2016 The Handicraft Gallery opened its doors for visitors and buyers on the main street of Nizhny Novgorod. It is the project of the Hudozhestvenniy Promisly JSC that had celebrated its 40 years anniversary recently.
Since 1976, when the first art handicraft shop Hudozhestvenniy Promisly was launched, it became a famous showplace in Nizhny Novgorod and the only place in Russia where you can find all the types of art craft products of Russia.
For the years of its work the shop gained experience in keeping, reviving and promoting of art handicrafts. In the year of the 40 anniversary, the company launched its new project - the Gallery of exclusive hand-made art crafts Handicraft.
Handicraft is a registered in 2011 trademark belonging to the Company. The brand became famous fast enough among gentleman of virtu and art collections owners. The Gallery launch was the reasonable step for the further company progress.
The Gallery is the showplace for the exclusive hand-made crafts collections and pieces of arts of high artistic merit mace by Russian best craft masters. The highest quality of each art work showed in the Gallery is confirmed by relevant quality certificates and expert opinions.
The Handicraft Gallery unites the heritage of forefathers and the new trends occurring in the art crafts. While preserving Russian cultural traditions, we strive to be on the edge of contemporary tends, matching the most exquisite and demanding tastes and fitting well into any interior designs.
We will be happy to welcome you as our guests, in our historical building nearby the Kremlin, where in the atmosphere of the Russian noble family house, you will be able to learn the history of any type of crafts and to gain the professional advice for any work presented in the Gallery, and, of course, to find and buy the piece of art of your desire.
And for your convenience we provide the on-line consulting. To get it please send us the e-mail of fill the web-form and order the work from our Online Gallery.
You are welcome!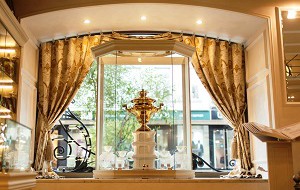 Dear buyers!
Please check the mode of operation of the Gallery during the holidays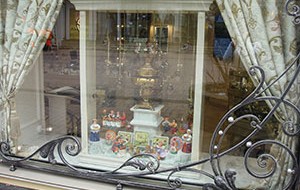 Easter – the feast of the Bright resurrection of Christ is regarded by Christians the greatest event, the giver of salvation to the world and humanity.

This is the most joyful and the most celebrated holiday in the Orthodox world, bringing in a house of love and hope, peace and harmony.

Happy Easter to you, warmth and kindness!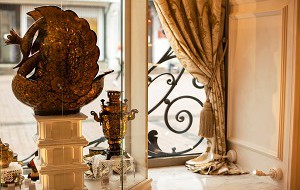 The President of Russia Vladimir Putin the decree declared 2017 as the year of Ecology. The main idea is to attract the attention of the Russians to nature and ecology, to learn to appreciate and cherish all the beauty that gives us the world around us.